Natalie Menges Elected AzLA Treasurer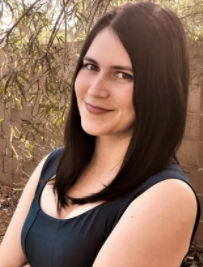 Dear AzLA Members,
Rene Tanner our current AzLA Treasurer will be leaving us for new adventures out of State. Her last day will be July 15th, 2021. We thank Rene for all of her hard work and dedication to AzLA over the past 5 years. Rene has helped to assure AzLA's financial future and bring stability during a rocky economic climate. We wish Rene well on her new position as Head of Research Services and Science Librarian at Rollins College, Olin Library in Winder Park, Florida. She will be greatly missed!
Last month a special election for AzLA Treasurer was held to fill the Treasurer position. The AzLA membership voted and the results were unanimousd. Natalie Menger will be the next AzLA Treasurer! Natalies first day will be July 16th, 2021.
Natalie Menges has worked for over eleven years in the field of librarianship. She is currently a librarian in adult services with the Glendale Public Library. She is also currently an adjunct faculty librarian in the Glendale Community College Library Media Center. She has a Bachelor of Science in Accounting with a Minor in Finance and Economics from Grand Canyon University and a Master of Library and Information Science from the University of Arizona. As a librarian, she has worked with collection development, programming, project management, grant writing, reference, and library instruction. She puts an emphasis on collaboration and works to form and maintain partnerships within the community and across other libraries.
She has served as the Arizona Library Association's Program Co-Chair for the 2018 and 2019 conferences and interim Secretary for the association in 2018. She currently serves as a committee member on AzLA's Programming Sub-Committee to assist with the selection of professional development opportunities for the annual conference.